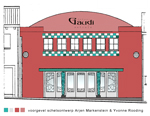 Design façade Eetcafé Antoni Gaudi te Venlo

Design interior of Eetcafé Antoni Gaudi:
color, lighting, Mosaic, Stairs, Waterball, tabletops, photograph corner with work of Gaudi, Crockery advice, Menu cards, Mirror mosaic behind the bar, arcs in ceiling second Floor, Mosaic Cove with lighting, glass house to stairwell. In cooperation with Arjen Markenstein.
Design logo.